Good news for Top Eleven managers because we have now one new team in the game and more exactly we have FC Köln.  
FC Köln is not a very big club but is a name known by any football fan especially from Europe and Germany. They have an old tradition and in fact, they are the first winners of the Bundesliga, the main league from Germany.
They won DFB-Pokal 4 times and they played the final 10 times. Not bad, right? Also in 85-86 they played UEFA Cup final but they lost on agg. with 5-3 against Real Madrid.
Now let's talk about the kit. We have 2 jerseys and of course the logo.
I'm pretty sure most of you already know their logo but we will show it anyway. This is the logo, it's exactly like in game, the picture is from Top Eleven database.
Logo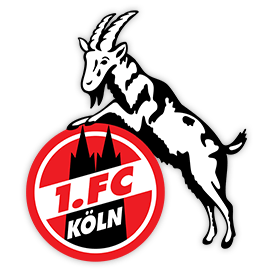 Home Jersey
Away Jersey
The 3rd jersey is missing, I am not sure yet why it was not added but is very possible that it will never be added. Anyway the 3rd one wasn't that nice like first two.

The price for them is very great, they are one of the cheapest items in the game.
Not sure but I expect an item discount in 1 month or less so if you plan to buy them you can wait because you can get them at a super price and my advice for you is to do same, but if you are a big fan of them buy them now because like we said above the price is great.